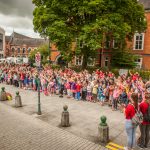 Summer SING! Cork 2016 – July 18th to 22nd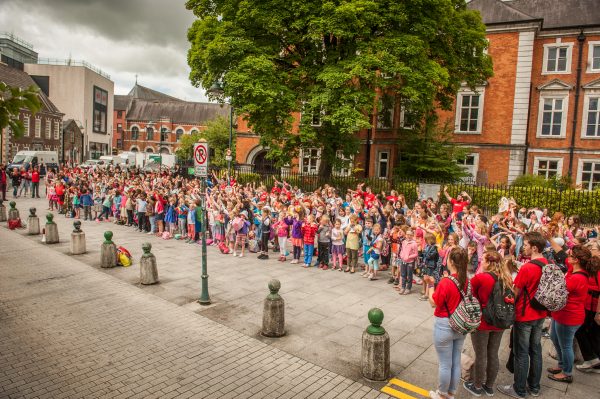 Born of a new partnership between ARTlife CULTURE and Music Generation Cork City, summer SING! allows us to bring some of the flair and freedom of our international programmes home. With fresh eyes we have looked at our city and shaped a programme for our children which captures our love for singing and our strong pride of place.
summer SING! is a week-long children's singing festival which encourages children from Ireland and around the world to experience SINGING! in Cork City. 360 children, aged from 6 to 14 years, gather in City Hall Cork where they are welcomed by the summer SING! Festival Team of some 120+ specialist professional and volunteer staff from Ireland, England, Spain, the USA, Malaysia and Singapore.
Our young summer SINGERS! experience the rich history and culture of Cork City while nurturing their natural singing ability. summer SING! successfully encourages self expression, confidence and positive self esteem through excellent artistic engagement, empowered public performance and shared civic pride. Singing together, and moving in smaller groups through Cork City, our young SINGING! citizens experience public spaces as never before as they engage in open-air warm-ups, impromptu public performances and smaller rehearsals in more than twenty of Cork City's historic, cultural and civic spaces.
Each day parents and friends will be welcomed to witness the children's accumulation of learning in a series of informal, open-rehearsal-style performances. On Finale Friday, staff and child participants combine and all 500+ summer SINGERS! promenade Cork City SINGING! This unique festival week culminates in a concert performance at City Hall Cork on Friday, 22 July 2016 at 2.00pm. All summer SING! performances are free and open to the public.
summer SING! 2016 will take place in City Hall Cork from Monday, 18 July to Friday, 22 July inclusive and from 9.00am to 3pm each day. All interested can sign-up with all places being offered on a first-come, first-served basis. You can register online here or call us on 087 709 6811
summer SING! is produced by ARTlife CULTURE in partnership with Music Generation Cork City and is further supported by Cork City Council Social Inclusion Unit, Cork City Council Arts Office, University College Cork International Office and the Association of Irish Choirs. summer SING! is realised through extensive collaboration with participating DEIS primary schools, targeted children's communities, charitable institutions specifically Cork Penny Dinners, and Cork City's cultural venues. summer SING! 2016 welcomes international volunteer staff from the Metropolitan Opera New York City as part of our continued international staffing collaborations.
For regular updates and information LIKE summer SING! on Facebook www.facebook.com/summersingcork
Trackback from your site.