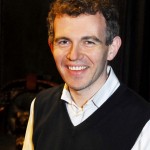 Masters Of Ceremony – The Cork News
   Hidden away in one of the oldest parts of the city, the Masonic Hall on Tuckey Street is home to the Cork city lodges and headquarters of Munster Freemasons. For many, the term 'freemasonry' dredges up connotations of a closed society that refuses to share its secrets with the world, one the Catholic church has perhaps been somewhat suspicious of. However, ever since the decision to open up the premises for events like Culture Night and Heritage Day, a new sense of transparency has cleared around a subject that once bordered on taboo.
B
uilt around 1770 as the Assembly Rooms for Cork City, the Masonic Hall was first a meeting point for all of Cork city's clubs and societies until the First Lodge of Ireland purchased it for its own use in 1844. Since 1926, all of the city's lodges and additional orders have gathered in the building for their monthly meetings.
"Members themselves propose and second prospective new members," Dr. David J. Butler, Provincial Grand Librarian and Archivist for Munster Freemasons, explained to the Cork News. "Two other members of the lodge, called scrutineers, will then meet that individual over a pint or a coffee and assess his character and personality.
"New members have to sign a declaration about their details and attest to the fact that they haven't been in trouble with the law – or if they have, why – and the scrutineers will then give a report at the next monthly meeting. Each member of the lodge then votes. If the new member is accepted, he will be initiated at the next lodge meeting.
"It takes three months to get the first degree of membership – the Entered Apprentice degree – and it will be at least three months again before you get the second, which is the Fellow Craft degree. The third degree – the Master Mason degree – is at least three months later again, so it takes about a year to become a full member. Everything else is optional after that."
Anyone interested in joining can attend a coffee morning – which is held every Friday between 10.15am and 11.45am – where several key considerations of the Freemasons can be seen in action. Members talk about friendships, gaining new acquaintances, personal development and charitable efforts. All believe such a group is even more relevant in today's society.
"For me, it's about the comradery and meeting people my own age and older in Cork city and county", Dr. Butler added. "I'm an academic so I get to travel to conferences in America on an annual basis. I always make a habit of visiting a local lodge and I've been warmly received in cities like Seattle, San Francisco, Boston and Washington DC. I like the history and I like the rituals too.
"Freemasonry is all about making good men better, as our American colleagues put it so well. The idea is that you translate the skills of the stonemasons into your own life. You are not actually working with stone – you are working on your character and morals. You're going back to an era when the educator and the person being educated couldn't read or write – back to the Middle Ages – and that's why grips, rather than handshakes, tokens and words are so important.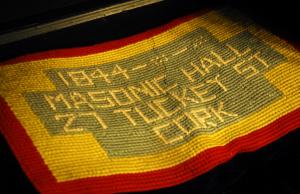 "Centuries ago, if a stonemason from Youghal went to Galway to build a church, he would have to say whether he was an Entered Apprentice or Master Mason and be tested orally to prove it before they would allow him work on a wall that might later fall down. In today's world, it means improving yourself in everything you do – from your conduct in business to your deportment. This is a life skill and not something that is acquired over one year. Freemasonry is a life path, even a calling."
The Masonic Hall has four levels. The ground floor was formerly split into three shops, the proceeds of which helped supplement the rent.
Nowadays, it is home to the building's catering area and museum, the latter of which also doubles up as a dining area for the coffee mornings and annual lodge suppers.
The wooden level that laid the foundation stone for St Patrick's Bridge and St Fin Barre's cathedral is among the artefacts on display.
Jewels (medals) of past members and lodges are contained within glass cabinets while the freemasons' charity work is acknowledged by two pictures – one of two Red Cross ambulances, donated during World War I, and the second of the Grand Masonic bazaar of 1882, held in the R.D.S., which raised just under £23,000 over four days for various causes (equal to €1.25 million today).
The main meeting room is located on the second floor and is by far the most impressive room in the building. A 20-foot high ceiling caps a room surrounded by choir stalls and the bishop's throne canopy from the previous St Fin Barre's Cathedral, which was demolished in 1865.
The stalls could be older again as the medieval cathedral was refurbished in the 1690s after the siege of Cork.
Coats of arms hanging from the walls represent members of the Prince Masons past and present and swords of the Knights Templar and stall plates, which are carbon copies of the banners overhead, can be seen at the back of each individual stall. Members can sit where they like in meetings, except for quarterly Prince Mason gatherings, at which each of the members has a particular seat. The room is always set up for a business meeting and its agenda will be familiar to anyone who has ever been involved in a committee.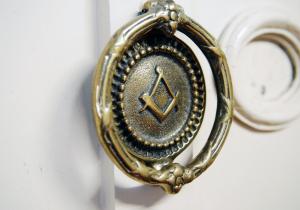 "The Worshipful Master, or the chairperson, will always be seated three steps up under the canopy. Generally, next year's chairperson or the Senior Warden sits opposite him with the Junior Warden and Treasurer halfway down each side of the room. The secretary conducts the business of the meeting in liaison with the chairperson.
"The meeting opens when it is called to order with the gavel. There is a formal ceremony to open and close each meeting and each lodge's wording and content is slightly different from all the other lodges in Munster. The Chaplain is usually conducted to the centre of the room by the two deacons, who carry wands with a silver dove of peace on top, and he will read a prayer after which the members will sing an ode. The ceremony lends a sense of gravitas, history and ritual to the whole occasion."
"The minutes of the last meeting are reviewed and any matters arising are discussed. Correspondence is dealt with followed by the Treasurer's report, the Steward of Charity's and Almoner's report and any fundraising effort that might be ongoing. A new member might be proposed and seconded or initiated, all while an inner guard sits by the door with his sword drawn, though it's purely for ceremonial purposes. He can challenge anyone for the entrance phrase."
"If members are interested and they attend the majority of meetings, they can progress into additional orders. Once you become a full member, or Master Mason, you can apply to join the Royal Arch Chapter, which meets quarterly on the top floor of the building. A third branch of the order is called the Knight Masons. After that it's invitation only."
"Generally speaking, you are at least ten years a member before you are invited to be a Knight Templar or Prince Mason. Members are at least in their middle 30s at that stage and have usually been a senior officer, though not necessarily a past chairman, of their own lodge and chapter. All lodge offices are rotated in strict rotation. All this in itself cultivates patience in members."
"The number of the Knights Templar isn't limited but there are only about 50 members. The Prince Masons only have 33 and are generally older members. There are further echelons in Grand Lodge in Dublin, the so-called 28th, 30th, 31st, 32nd and 33rd degrees, but their numbers are very limited. There are only nine holders of the 33rd degree on the whole island for example and a further 16 who have the 32nd degree. There are about 33,000 Freemasons in total on the entire island."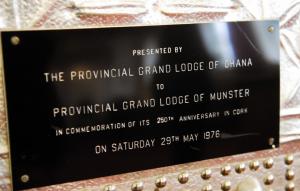 The Freemasons have several different charitable funds, all of which are boosted by members' subs and fundraising efforts. Support is available for widows, for the education of the daughters and sons of deceased members as well as down and out members. Freemasons also donate regularly to charities in their own local areas.
Subs range from €175 to €200 annually in the eight city lodges and from €50 to €100 in the five main county lodges (three in west Cork:
Skibbereen, Kinsale and Bandon; two in east Cork: Cobh and Youghal). A portion of this income is now put aside to continue with the refurbishment of the Masonic Hall on Tuckey Street – over €110,000 was spent revamping the building's top floor in 2010 and "not a cent" went to any Masonic-owned company, according to Dr Butler.
"Historically there has always been a feeling that Masons look out for each other but that was never the case. None of the members, apart from soliciting quotes, were involved in the work done here last year, though we did get a couple of new members out of the process. Once people came in here to work, they got to like the place and the history."
"On the other conspiracy theories, they just couldn't all be true. The Catholic church would have been wary of any organisation it couldn't control or head up. Freemasonry is secular and Republican – in the traditional sense of the word – and George Washington and Benjamin Franklin and others involved in the American and French revolutions would all have been freemasons."
So are Freemasons still relevant today? "Well," says Dr. Butler, "we're still attracting people to join us. It's not for everyone, but the Masons do have a subtle sense of timelessness and nobody is pushed into being part of something they don't want to be. You can get your three degrees, stay a paid-up member and seldom come to a meeting if you want to. We would prefer people get involved though, and a new interest in the Freemasons had already started before we got involved in events like Culture Night and Heritage Day. Those occasions have just added to the numbers."
Several hundred years of Freemasonry records and manuscripts are now lodged at the City and County archive in Blackpool. The full history of freemasonry in Cork is detailed online at www.munsterfreemason.com.
Originally published by the Cork News
Trackback from your site.